Check out Viet Q Mac video shot on board "Water-Wizards" on 20 January 2013 at the Half Moon Bay world-renowned break, as featured on the Mavericks Invitational Big Waves surf contest official website.
RedBull tv has also integrated it on its article summarizing the event.
Surfers were an integral part of the design and building team.
Built and designed to accommodate surfers and film crew
 with their respective equipment for worldwide surfing and offshore swells.
Its speed, maneuverability and electronics gear allow it to get 
to offshore big swells (Teahupo'o, Todo Santos/Cortez Reef,
Mavericks, etc.) within a short notice and move ahead, or through weather.
Deep waters anchor system and windlass.
Easy to board from water via two stern waterline platforms.
Added safety thanks to propulsion via jet drives rather than propellers.
Flush non skid decks without obstacles for bare feet.
Wet suits drying areas.
Secured storage both inside/outside for boards, tow-in boards.
Large decks space both bow/stern for 2 jet skis, rib, rescue sleds.
Under deck storage for rib.
Can accommodate gyro stabilized camera, IMAX equipment, tripods, cranes, telescopic booms,etc.
New tight weave bow nets for minimal spray on deck.
Three level filming platforms: 1ft, 6ft, 9ft above waterline.
Inside protected work areas for camera and filming equipment.
Flexible deck for tie down, rigging, and strapping system customized to projects logistics.
Work areas for repair of jetskis on deck, and of boards inside.

Once at destination, it can be used for extended periods.
A built-in 100+ gallon gasoline tank allows easy refueling of jet skis, ribs, when at sea due to easy-of-access underwing location.
Can tow numerous jet skis, support boats and carry 2+ tons of equipment.
Offshore (+100 miles) and overnight: 10 people with 2+ tons of equipment.
Near shore: 25 people and 4+ tons of equipment.
Large fully equipped galley.
Warm water shower.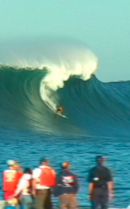 During its construction, Stephen went to his long time friend Mickey  Munoz for his feedback and input for it to be an efficient surf boat (transportation to worldwide breaks, filming and support of such). Mickey Munoz, aka "Mongoose".
Mickey pioneered surfing Waimea (thought to be unsurfable until then), and was the surfer who won the first professional surf contest!  It's while dancing on his long board nose that he invented the "Quasimodo".
Mickey was one of the 4 crew on Stephen's  48ft tube sailing catamaran "Wind Warrior" along with Gino Morrelli when they were First to Finish on Transpac 1987.